Partnership with the Franciscan Sisters of St. Joseph in Asumbi, Kenya
---
Two Franciscan communities—the Franciscan Sisters of Little Falls, Minnesota, and the Franciscan Sisters of St. Joseph – Asumbi, Kenya—share the Franciscan charism and a deep commitment to the Gospel and service to the poor. Visiting back and forth for a decade has resulted in a strong sense of solidarity between two groups of women from different sides of the world. The opportunity for cultural exchange has been a blessing and has enhanced our sense of global mission and ministry.

The relationship between the two communities of women religious originated from the partnership between the Dioceses of Homa Bay and St. Cloud, initiated in 1999 by Bishop John Kinney and Father Bill Vos under the auspices of Catholic Relief Services.

Learn more about the Franciscan Sisters of St. Joseph in Asumbi, Kenya.

Faithful Fools Street Ministry with Sisters Carmen Barsody and Ade Kroll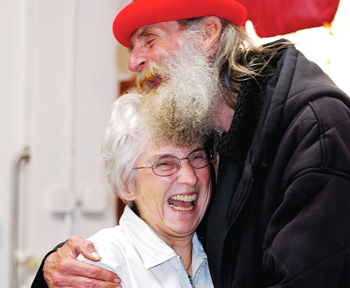 The Faithful Fools Street Ministry was founded in 1998 when the ministries of Rev. Kay Jorgensen and Sister Carmen Barsody converged in the Tenderloin District of San Francisco. Together with people from faith based and educational institutions, they live, learn and work with people who struggle with homelessness, mental illness, poverty and addictions in the Tenderloin, an area of the city people are advised to stay away from, yet it is a neighborhood where 3500 children live as well as many immigrant families.

Following the footprints of Jesus and Saint Francis of Assisi, they work to create a loving and committed community of people that acknowledges the worth and dignity of every human being from all walks of life, and who meet and come to know each other through the arts, Bible study, meditation, advocacy, counseling and supportive accompaniment through the tasks and needs of daily life.

Learn more about Faithful Fools Street Ministry.
Brain Integration Technique by Sister Carolyn Law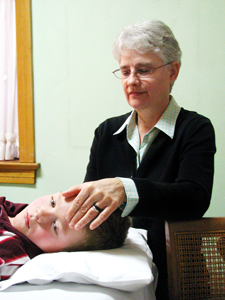 Brain Integration Technique as developed by Susan McCrossin enhances learning and problem solving. BIT is a non-invasive, gentle process that permanently corrects ADD, ADHD, dyslexia and other learning difficulties. Physical coordination and visual processing also improve. BIT helps clients resolve issues such as anxiety, depression, self-esteem and trauma.
Sister Carolyn Law, licensed professional counselor, Brain Integration practitioner, is trained in various mind/body modalities such as bioenergetics analysis, holographic memory resolution, emotion/body code and EMDR.

Learn more about Brain Integration Technique.
Video: Love in Action
In an attempt to understand modern day religious commitment, three students and one resident minister from the University of San Francisco speak with women religious who live and work in the San Francisco Bay Area.

Two of our Franciscan Sisters, Ade Kroll and Carmen Barsody, talk about their street ministry, Faithful Fools, to give us a better understanding of how their outreach is changing lives in the Tenderloin District. The Faithful Fools name comes from Saint Francis who considered himself to be a Fool for God.