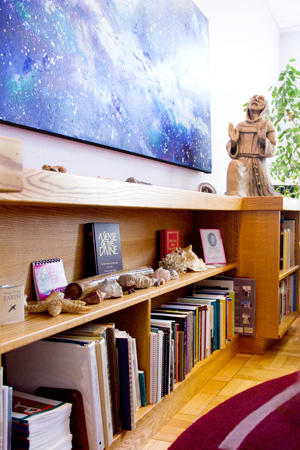 The Franciscan Life Center is a presence and a resource for interactive relationships. Through retreats, workshops, rituals and celebrations, we promote the Franciscan Way of Life which opens us to the God who continually seeks us.
Retreats, Workshops, Rituals, Celebrations
The Franciscan Life Center is home to many Franciscan resources. Visit our magnetic setting, and learn more about what it means to be Franciscan.

Click here for a list of Events and Retreats.
Spiritual Direction for Individuals
Facilitated by a Franciscan Sister, spiritual direction is an on-going, one-to-one sharing with a spiritual guide. It is for persons desiring to become more conscious and intentional about one's relationship with God. This privileged time of sharing provides an opportunity to reflect with another about his/her spiritual journey. The agenda of spiritual direction includes anything that impacts one's life.
Group Spiritual Direction
In Group Spiritual Direction each individual experiences guidance in the context of those present. A facilitator provides structure to the group process. The goal is to become more aware, open and responsive to the God who continually seeks a more intimate relationship with us.
Solitude Experiences
Create an alone space for yourself by entering into solitude and a deeper communion with God in an institutional setting or in one of our Hermitages. As we spend time alone near the earth and its creatures, mysteries of life are often revealed. We are drawn into a deeper relationship with all of life, including the source of life, God.
Private Directed Retreat for Individual or Small Groups
A director can be available to facilitate either an individual or a small group retreat. Cost will depend on requested number of days and the number of persons making the retreat.