Today the Franciscan Order flourishes throughout the world. The spirit of the Franciscan tradition is recognized as one of joy, gratitude, and care for the poor. The lives of the brothers and sisters witness to the transforming power of God's love in human lives and to the wondrous giftedness of creation. The focus on the love and the goodness of God manifested in all creation, and on our free response to God's grace is an important foundation for Franciscan self-understanding. This spirit is, perhaps, best exemplified in Francis's Canticle of the Creatures, a song for our times when reverence for creation is critical for a sustainable world and environment.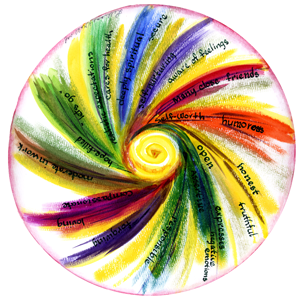 What do Franciscans offer today? By their professed lifestyle, holding lightly to the goods of the earth and walking gently and reverently through the world, we seek to remind the world that everything and every single human being is a gift from God. Thus we are all children and creatures of God and, thus, brothers and sisters to one another. Our minds are meant to be dazzled and pleasured by the vision of God. Franciscans witness to the fact that life can be lived joyfully and serenely with very few possessions and that the possessions we do have are only gifts to which we have no ultimate claim. Thus we are offered the gift of peace and joy through understanding who we are before God, how we are related to one another, to the earth and to the entire created universe.
Franciscans have a word to say to the world today—and that word is the Word of God who came among us to be one of us, who lived, suffered and died to show us abundant unconditional love. In the face of this incredible truth, we can only stand amazed. And when we stand amazed before this truth we know who we are and how we are loved. This is worship in its true sense. And it is the only real reason for anyone to be a Franciscan or a Christian today.
Some good readings:
---
Clare of Assisi, by Marco Bartoli. Quincy: Franciscan Press, 1993.
A "lively narrative" offering a reliable biographical treatment of the life of St. Clare.

St. Francis of Assisi, by G.K. Chesterton. New York: Image Books / Doubleday, 1957 (2001 edition).
A delightful and readable extended essay revealing the impact of Francis's spiritual attraction for Christians over the centuries.

Francis of Assisi: Performing the Gospel Life, by Lawrence S. Cunningham. Grand Rapids, MI: William B. Eerdmans Publishing Company, 2004.
An excellent, short and informative biography demonstrating the meaningfulness of the Franciscan spirit today.

Clare of Assisi: A Biographical Study, by Ingrid Peterson. Quincy: Franciscan Press, 1993.
A well-developed and detailed treatment of the life and times of St. Clare. Suitable for study.

Gospel Living: Francis of Assisi: Yesterday and Today, by Rotzetter, Anton, Willibrord-Christian Van Dijk, and Thaddée Matura. St. Bonaventure, NY: Franciscan Institute Publications, 1994.
A serious treatment of the life of St. Francis, the history of the Franciscan Order, and the relevance of Franciscan spirituality for our times.

The Franciscans, by William J. Short. Collegeville, MN: The Liturgical Press, 1989.
An engaging and impressive treatment of the history of the Franciscan Order, its impact over the centuries, and its particular meaning for our own times.)