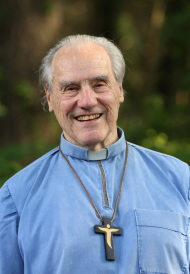 January 14-18, 2019

In this retreat we will focus on our call to holiness – where we've been, where we're going and the challenges ahead. The Gospels, our baptism, St Francis and Pope Francis will serve as guides. Join us - Let us rejoice and be glad together!

For more information or to register by January 3, 2019, please call (320)632-0668 or email: franciscanlife@fslf.org; www.fslf.org.
Our retreat director, Fr. David Knight was born in Dallas Texas. He was ordained a priest in Lyon, France and earned his doctorate in theology at Catholic University, Washington, D.C. Fr. Knight has been a Theology professor at Catholic University, Washington, D.C.; Loyola University in New Orleans; Christian Brothers University in Memphis; and Memphis Theological Seminary (Presbyterian). He has been a parish pastor and spent three years as a bush pastor in Chad, Africa. Fr. Knight is an enthusiastic and inspiring presenter and has given more than five hundred workshops, missions and retreats on the religious vows and lay spirituality. He has given presentations throughout the United States and Canada as well as South America, Europe, Africa, Australia, Guam, Haiti, Japan, and Korea. Fr. Knight has written over 40 books on various subjects including Scripture, Spirituality, Sacraments, the Mass, Religious Life and Mary. He currently also serves as chaplain for the Poor Clare's of Memphis, Tennessee.