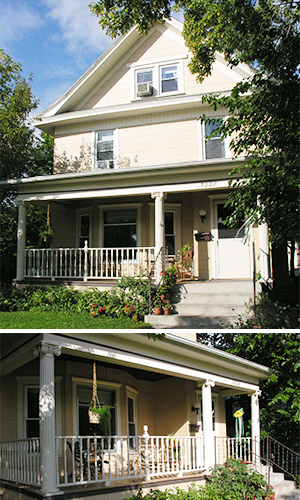 A place apart in the middle of the city, here at Sabbath House you will find:
space for quiet time, renewal, prayer, reading, walking
the healing presence of plants and tranquil garden
books and music
simple earth-friendly meals and snacks, herbal teas
friendly hostesses
space to let your spirit grow
We welcome individuals for a private, personal day of renewal. We offer meeting space for small groups of 6 to 10 people. We sponsor events throughout the year, including Practice of Sabbath gatherings, Advent Evening Prayer, and Soup & Sabbath.

Donations are accepted:
Day with 1 meal – $15 per person
Day with 2 meals – $20 per person

Sabbath House is accessible by City Bus Routes 21 and 11.
Feedback for Sabbath House
Day in, day out, we do what we do here at Sabbath House. People come here for various reasons; we provide hospitality. We share life with neighbors. So once in a while, it's encouraging to receive feedback from those around us.

This is some of what we heard:
Here is a place where one can focus. There is space for quiet and prayer. Green space is inviting.
Meals are simple with good wholesome food.
A long-term group meeting weekly noted the experience of hospitality including welcoming a service dog, reliability, tea.
This is an anchor in the central city, an oasis to all the local activities.
We fill the need for a small ecumenical retreat/prayer and discussion opportunity in the heart of a major city.
Franciscan Sisters and Associates can use the space to meet, to bring groups, to volunteer, to receive "bed and breakfast" and airport service.