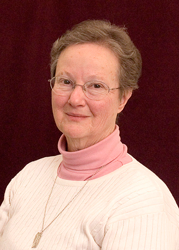 I was born to George Kilian and Clara Valley Kilian on a farm in St. Augusta, Minnesota. With my brothers and sisters (Evan, Merle, Bob, Kathy and Danny,) I enjoyed a childhood immersed in our planet's gifts of fields, gardens, trees, open sky, a creek and lots of animals.

The Franciscan Sisters of Little Falls came into my life through my childhood friend, Yvonne Jacobs, who is a relative of our Sister Monica Jacobs. I had received a good education from the Benedictine Sisters. Certainly, they fostered my religious vocation. However, when I visited Sister Monica in Little Falls with Yvonne, I was smitten. I decided on the spot that this was where God meant me to be and I entered the candidacy of the Franciscan Sisters and transferred from Cathedral in St. Cloud to St. Francis High School in Little Falls during Thanksgiving vacation of my senior year, November 27, 1954. I especially remember Sister Eve Goering, our candidate director, being very kind to my parents and helping them to accept my request to leave home at the young age of seventeen.

The Franciscan Sisters of Little Falls have continued to develop my Franciscan/Christian heart, providing strong support in the sister families from which I have ministered these past fifty years. I have enjoyed a wide variety of work in hospital records, counseling, administration, House of Prayer, Office for Peace and Justice, provided 11 years of hospitality for guests at Clare's Well Spirituality Farm in Annandale, Minnesota. Currently, I am discerning my next retiring ministry.

I pray the years to come will only continue to open my heart and all of our hearts to build a world based on the Gospel of Jesus. I have only a small glimpse of what such a world demands of us. I pray I am up to the courageous response the gift of increasing awareness will require.