Sister Mary Zirbes
---
In her semi-retirement years, Sister Mary Zirbes has been a strong advocate for social justice and preservation of the environment and all of creation.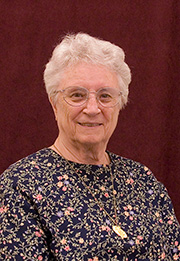 Involved in a variety of causes, she has done much to bring awareness to the critical issues affecting our society today.
She also has a love for painting, producing many works of her own and teaching art classes to her religious sisters.
Sister Mary Zirbes, originally from Melrose, Minn., joined the Franciscan Sisters in 1942. For many years she served in elementary education, the Community Mission in Peru, and in promoting outreach and social justice ministries in parishes of the Archdiocese of St. Paul and Minneapolis.
At a glance
Ministry: Social Justice Advocate
Location: St. Cloud, MN