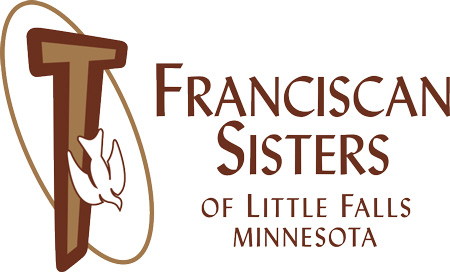 The community symbol (Tau cross, spirit and the logotype (Franciscan Sisters of Little Falls, Minnesota) exemplify what we stand for as a community. The community symbol and logotype is the unifying visual element which bonds together a community with many ministries in various areas of the world.

THE TAU CROSS
The Tau cross is an ancient Christian symbol which can be traced to the words of the prophet Ezekiel (Ez. 9:4-6). Those marked with the Tau on their foreheads were known to belong to God. For Christians, the Tau was linked with the cross of Christ. Francis of Assisi, who was greatly devoted to the cross of Christ, used the Tau as his signature.

THE SPIRIT
Francis wrote The Rule of Life as a guiding document for his followers. In the final article of this rule he reminded his brothers and sisters that "they should desire one thing alone, namely, the Spirit of God at work within them." Francis, whose spirituality was very Trinitarian, frequently acknowledged the formative place of the spirit in the lives of his followers.

THE CIRCLE
For Francis, it is the Spirit of God that creates the circle of energy uniting the brothers and sisters in relationships of love. It is this same Spirit that moves them outward in cosmic interdependence and relatedness with all of creation.