Sister Mary Goretti (Stella) Lampert, 90, died on December 10, 2013, at St. Francis Convent, Little Falls, Minn.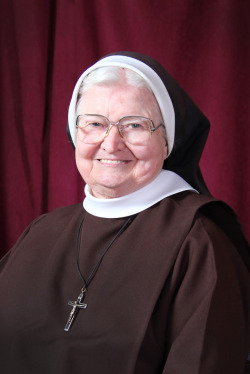 A Mass of Christian Burial will take place at St. Francis Convent on Monday, December 16, at 11 a.m. Friends may call at St. Francis Convent on Sunday, December 15, from 4-8:30 p.m., with a Franciscan Prayer Service at 7 p.m., and from 8:30 a.m. until the time of the funeral on December 16 at 11 a.m. Arrangements are by Brenny Funeral Chapel, Baxter.

Sister Mary Goretti Lampert was born on February 27, 1923, in Bowlus, Minn. She was the eighth of 15 children born to the late Peter and Sophia (Kampa) Lampert. She was accepted as a Franciscan Sister of Little Falls, Minnesota, on July 31, 1954. She made first profession on August 12, 1956, and final vows on August 12, 1959. She was a Franciscan Sister for 59 years.

Sister Mary Goretti had a great desire and love for learning and she imparted this to her many students over the years. She was the valedictorian of the 1941 senior class at St. Francis High School. Sister Mary Goretti was a woman of deep faith in God with a strong devotion to the Blessed Virgin Mary. She was a perfectionist who put her best foot forward in anything she did and the results were without reproach. She loved people and seemed to know everyone in the Little Falls area. "Be tender to the presence of God in each other" was a motto she often shared as she spent time with people. Sister Mary Goretti was grateful for her family, her religious community, her education and her good health. Even as her health declined, she maintained a happy and positive attitude. Sister Mary Goretti was the Little Falls Teacher of the Year in 1975. She was in love with life and believed that life is largely what one makes of it. She held the attitude: "What you are is God's gift to you, what you make of yourself is your gift to God."

Sister Mary Goretti received a Bachelor's degree from the College of St. Catherine, St. Paul, and a Master's degree from St. Cloud State University, St. Cloud. She also studied at Dayton University and St. Leonard's College, both in Dayton, Ohio.

Sister Mary Goretti was a teacher and principal in rural public schools of Hillman and Bowlus for 10 years before she became a Franciscan Sister. Following her entrance, she ministered as an elementary school teacher, organist, choir director and assistant principal. In her retirement, she served as a clerk and proof-reader in the Community Relations Department of the Franciscan Sisters for 23 years. She served in Morris, Flensburg, Elk River, St. Cloud and Little Falls.

Sister Mary Goretti was preceded in death by siblings: Agnes Dubiel, Martha Stiller, Roman, John (infant), Joseph, Peter, Jr., Mary Brenny, John, Charlene, Albert and Patricia. Survivors include siblings: Betty (LeRoy) Pollock, Holdingford; Cecilia/Chee Chee (James) Posch, Little Falls; Regina (Wayne) Lauermann, Waite Park; nieces, nephews and her Franciscan Community.

Donations to Franciscan Sisters Ministries preferred.