Many of you came to know and love our dog, Lacy, a dear Collie, at Clare's Well. She died at age 13 last July and left a large, empty place in our hearts and in our yard.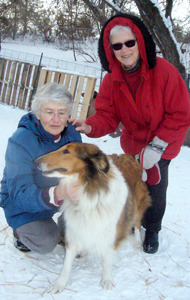 Many people have encouraged us to seek another Collie to enliven our empty yard and bring back the loving hospitality only a dog can provide.
We received generous donations from friends at Christmas time for the purpose of adopting a Collie. This is the one we have our eye on. Her name; Lady. She looks like Lacy and her name sounds like Lacy, but she is younger (about 3 years old) and her name is Lady. Watch for an update . . .
Pictured: Sisters Carol Schmit (Left) and Sister Paula Pohlmann (Right, standing)