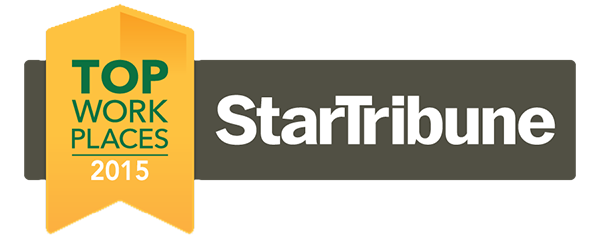 The Franciscan Sisters of Little Falls rank 11th in the Top Small Business category of employers, with 98 employees eligible, as selected by the Star Tribune's 2015 Top Workplaces in Minnesota. This year 343 companies participated.

Top Workplaces are chosen solely on employee feedback and on strict standards for organizational health. The employee survey was conducted by Workplace Dynamics, a leading research firm.
Employees at St. Francis Convent responded to questions related to the workplace: leadership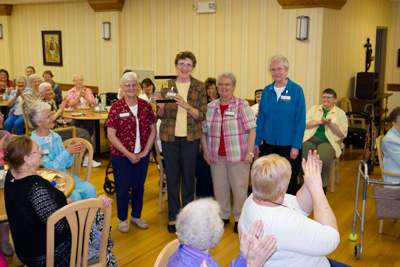 operates by strong values and ethics, employees have confidence in the workplace, the person feels genuinely appreciated and is kept informed of key decisions, the employee would recommend the workplace to others, each person is motivated to give their very best at work, new ideas are encouraged, procedures run efficiently, managers care about employees and make it easier to do their jobs, employees continue to learn and grow, pay is fair for the work done, the benefits package is competitive, the culture encourages balance between work and personal life and, far from least, the job has met or exceeded the expectations of the employee.
"Employees were encouraged to be candid in their responses and answered the survey questions confidentially," according to Deanna Boone, director of Community Relations. "We wanted a true picture of what employees think. Obviously, their responses were extraordinarily high; if the responses had taken a different turn, the sisters would have wanted to learn from those answers, too."


Sister Bea Eichten, Community Minister, said, "I am delighted and, at the same time, I am not surprised. We have a wonderful group of co-workers who made this distinction possible. Their dedicated, capable service and their presence among us help to create a caring Franciscan community made up of Franciscan Sisters, co-workers, associates and volunteers. We are grateful to them for who they are and how they are with us. Together, we build an environment of community where each is valued."


The Franciscan Sisters have ministered in the Little Falls area and beyond since 1891. Their ministries include education, health care, pastoral care, ministering with the poor, marginalized and forgotten and building communities of peace and justice wherever they are called to serve. In the spirit of Saints Francis and Clare, the sisters embody a life of prayer, simple living and service to those in need. The sisters currently employ 149 persons on the Little Falls campus and in surrounding areas. Employees embody the Franciscan values of respect, open communication, hospitality and compassion in their daily work and in how they relate to one another and the sisters.


"In true Franciscan tradition, the sisters and employees celebrated this public recognition together with ice cream, stories and laughter," Boone added.


Complete results of the survey can be located at
http://www.startribune.com/2015-top-150-workplaces/307123441/
Photo identification: (Standing Center—L to R): Sisters Grace Skwira, Bea Eichten, Susan Knutson and Rose Margaret Schneider—Franciscan Sisters Leadership Team