This article first appeared in the Morrison County Record and is republished with permission. This is ninth in a series of articles on the history of the Franciscan Sisters of Little Falls, Minnesota.


By Associate Jeff Odendahl, Guest Writer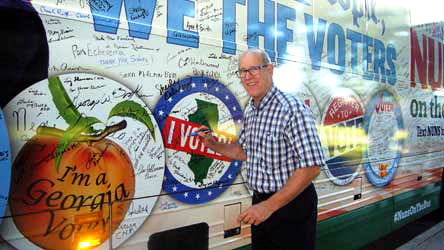 We didn't know what we were getting into! My wife, Mary, and I made our commitment as Franciscan Associates in November of 1988. It was something I'd resisted at first. As an employee of the Franciscan Sisters' health care operations, I felt uneasy about what this new kind of relationship might mean, and even thought there might be some potential "conflict of interest" related to my job. My concern melted away, though, as we grew closer to individual sisters and experienced the deep goodness and inner peace of so many of these wonderful women.
The idea of an "associate program" was first presented to the sisters in the early 1970s. But, it wasn't until 10 years later that a group of 10-12 people in Tennessee came together on a monthly basis under the leadership of Sister Clara Stang. They called themselves "The Friends of Francis." While this group predated the establishment of the Associate Relationship, Sister Clara remembers these folks fondly as "the first associates."
Finally, in November 1986, the first "official" associates were welcomed at the Motherhouse by Sister Agnes "Aggie" Soenneker, the first director of Associates (1986-1988). Franciscan Associates are not vowed members of the Franciscan Community. Rather, they are lay persons (women and men) from many different walks of life who embrace Franciscan ideals and choose to walk in solidarity with the sisters. Associates don't live with the sisters, but join them frequently for prayer, support and celebration.
By 1997, while the number of associates continued to grow, neither sisters nor associates appeared to have a clear vision for the program. Sister Mary Zirbes, (1993-2003) then the minister of Associates, guided the process from which direction began to emerge. Spiritual growth was the primary interest of both sisters and associates. Retreats were developed for associates to learn more of the Franciscan spirit and traditions and where sisters and associates were also able to get to know one another better.
Sister Patricia Imdieke (minister, 2003-2008) developed a formation program for those applying to the Associate Relationship. This was further tweaked by Associate Geri Dietz (minister, 2008-present). In the early years of the program, a person might want to become an associate simply because of friendship with an individual sister. The formation program gives the applicant insights into the lives of Saints Francis and Clare and helps them better understand the values of the Franciscan Sisters. It also underlines that this relationship is not to a single sister but to the community of sisters.
While the Associate Relationship is formal, there is little that is formal about the relationships between sisters and associates. When the two get together, whether for prayer or a party, there are many hugs, some gentle teasing, and much joy and laughter. What draws them together? It may be a prayerful retreat, the celebration of a life well lived or a joyous occasion, like a Jubilee Mass. There are also many times when associates and sisters work together to provide life and vitality to the larger communities in which both sisters and associates live.
My own experience of being an associate has been a great blessing. Initially, we partnered with Sisters Carol and Aggie at Clare's Well, often visiting and picnicking there — even spear-fishing on their little lake. Carol and Aggie were godmothers for our daughter, Kateri. We got to know other sisters and associates. In 2003, our Franciscan Life Community was formed. This little group includes sisters and associates in Little Falls. Generally, we get together twice a month. One of these times is devoted to prayer, study and socializing. Our second monthly gathering involves some type of service to others. We've also had many opportunities to celebrate one another's joys and support each other in our sorrows.
As of August 2015, there were 286 associates and 26 applicants. Associates hail from Ecuador, Nicaragua, Venezuela, Colombia and many places throughout the United States, but the greatest numbers are still from Minnesota. Anyone who is interested in learning more about the Associate Relationship is invited to contact Geri Dietz
atgdietz@fslf.org
.
Photo Caption: Franciscan Associate Jeff Odendahl signs the Nuns on the Bus pledge.