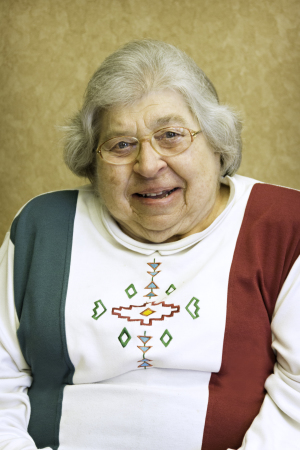 Janet was born on July 30, 1931, to Louis and Teresa (Springer) Kunkel in Melrose, Minn. She was the oldest of four children and had one brother and two sisters. She grew up in Melrose and attended St. Boniface School. She retained a great love of and affection for her hometown and home parish. One could always expect to find a copy of the Melrose Beacon beside her chair.
A tragedy that affected her profoundly was the death by drowning of her younger sister, Patricia, at the age of ten.
Janet loved her Benedictine teachers and credited them with laying the foundation of her penmanship skills, her love of reading and love of music.
She attended St. Francis High School in Little Falls, Minn. After graduation in 1949, she was accepted as a Franciscan Sister and given the name Sister Mary Paulette. She was a Franciscan Sister for 68 years.
Sister Janet earned a bachelor of arts degree from the College of St. Catherine, St. Paul, Minn.; and a master of arts degree from the University of Minnesota, Minneapolis. She also studied at Boston College, Boston, Mass., and at the University of Minnesota, Morris.
The teaching skills she learned from the Benedictine Sisters were carried over to and enhanced her own teaching skills. She was an excellent primary teacher and had great patience with her little pupils. She loved working with little children and helping them become the best persons they could be. She taught in parochial schools in Flensburg, Morris, Fergus Falls and Little Falls, Minn., where she was also principal.
Sister Janet was also involved in religious education in Marona, Tucson and Vail, Ariz. She was very active in the RCIA program at St. Cyril's Parish in Tucson, and more than once, was a sponsor for a participant.
Music was a great part of Sister Janet's ministry. She served as organist and director of liturgical music in various parishes. She also gave organ lessons to both adults and to young students.
In addition to the above ministries, Sister Janet taught remedial reading in Lexington, Miss., and in Tucson.
Her many years of ministry in the Tucson area were enriched by the presence of her sister, Jean, and her family. This included helping to care for her grandnephew, Elijah, during his early years. This forged a special bond between Sister Janet and Elijah. That family became very close to Sister Janet.
Janet will be remembered for her love of nature and especially for her knowledge of bees and beekeeping which she learned from her father who was a beekeeper. Anything containing honey became a favorite food!
Throughout her life she grew in her love and appreciation for the traditions of her Franciscan vocation.
Sister Janet was preceded in death by her parents and siblings: Patricia, Gerald and Jean Kunkel Mentzer. Survivors include nephews and her Franciscan Community.
A Mass of Christian Burial will take place at St. Francis Convent on Wednesday, April 4, at 11 a.m. Friends may call at St. Francis Convent on Tuesday, April 3, from 4-8 p.m. with a Franciscan prayer service at 7 p.m. and from 8:30 a.m. until the time of the funeral on Wednesday at 11 a.m. Arrangements are by Emblom-Brenny Funeral Service, Little Falls.
Donations to Franciscan Sisters Ministries preferred.