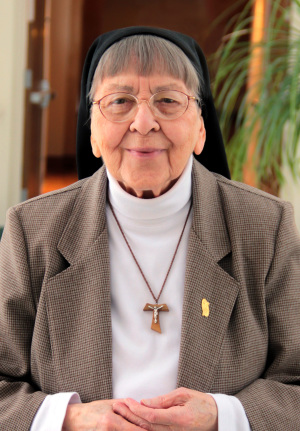 Sister Mary Annella Bieniek, 93, died on October 21, 2018, at St. Francis Convent, Little Falls, Minn.
Clara Bieniek was born on December 4, 1924, in Bowlus, Minn. She was the youngest of 11 children born to the late Nick and Anna (Krych) Bieniek. She was accepted as a Franciscan Sister of Little Falls, Minnesota, on August 12, 1942, and given the name, Sister Mary Annella. She made her first profession of vows on August 12, 1944, and final vows on August 12, 1947. She was a Franciscan Sister for 76 years.
Sister Annella was certified in Red Cross home nursing and first aid, marriage/pastoral counseling and clinical pastoral education. Sister Annella ministered as a housekeeper, cook, sacristan, dietary aide, activities and recreation coordinator and pastoral care associate. She was also a spiritual assistant to members of the Secular Franciscan Order. This was a much loved and treasured ministry and she was still in contact with many of those SFOs. She served in Dodgeville, Milwaukee and South Milwaukee, Wis.; Wahpeton, N. Dak.; Breckenridge, Moorhead, Perham, Parkers Prairie, Onamia, Morris, Little Falls and Marshall, Minn.
Sister Annella was a wide-eyed, energetic person with a spirit of hospitality and compassion as special gifts. A humble peace seemed to rule her heart and was spontaneously revealed in her compassionate and caring actions. Her prayer life and love for the gospel were hallmarks of her daily living. She was an active member of the Healing Light Prayer Community, a Little Falls St. Mary's Parish prayer group, for many years. Being a part of that prayer community was very important to her. In recent years her failing health prevented her from joining the group and that was difficult for her.
She enjoyed helping and assisting the sick, dying and disabled as well as giving support to their families. When asked what she values the most, she replied, "I value scripture, the Eucharist, my Franciscan Community and my family, my Polish ancestry and living a simple, prayerful life."
Sister was preceded in death by siblings: Brother Gabriel (Raymond), OSB, Alois, Isadore, Margaret, Tillie Henneck, Bridget, Agnes Hennek, Agatha, Eva Swietzer and Helen Susan. Survivors include many nieces and nephews, her extended family and her Franciscan Community.
A Prayer Service will be held on Monday, October 22, 2018, at 4 p.m. followed by burial. A Memorial Mass will be celebrated on October 27, 2018, at 11 a.m. at St. Francis Convent.
Donations to Franciscan Sisters Ministries preferred.