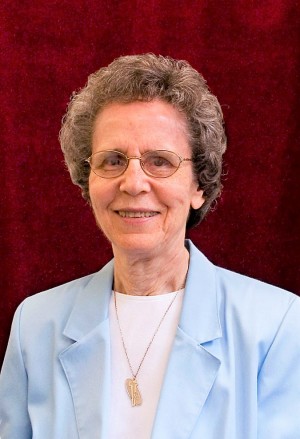 Sister Eileen Kosel, 90, died on October 28, 2018, at St. Francis Convent Little Falls, Minn.
Eileen Mary, the second of 10 children, was born to the late Frank and Agnes (Slivnik) Kosel on August 5, 1928, in St. Cloud, Minn. Life began for Eileen on a farm in St. Stephen, a small Slovenian community northwest of St. Cloud. Her dad farmed for a time, and then worked at Jack Frost Hatchery in St. Cloud. Eileen attended the district school in St. Stephen for the first grade and half of second grade, but when they moved to St. Cloud she was enrolled at St. Anthony's School. Moving to town was exciting for the Kosel children. They had indoor plumbing and electric lights. Eileen was taught by Benedictine Sisters, who were a great mystery to her. She always had a great respect for the sisters and priests, who instilled in her a firm Catholic faith which was reinforced at home by her parents. The family regularly attended Mass and various devotions, as well as praying meal prayers, bedtime prayers and the family rosary.
After grade school, Eileen attended Cathedral High School where she was again taught by the Benedictine sisters. She remembered well the day that Sister Mary Eve Goering, a Franciscan Sister from Little Falls, came to Cathedral to speak about religious life. Sister Mary Eve was the first Franciscan Eileen had ever seen and Eileen was very impressed by her. Father Ralph Aschoff, chaplain at Cathedral, took Eileen to Little Falls to talk with Mother Anastasia Ohmann. Eileen entered St. Francis Convent on September 1, 1946. She was accepted into the novitiate on August 12, 1947, and given the religious name, Sister Mary Charles. She made her final vows on August 12, 1952. She returned to her baptismal name in 1969. She was a Franciscan Sister for 71 years.
Sister Eileen was a registered medical record librarian and ministered at St. Gabriel's Hospital, Little Falls; St. Michael's Hospital, Sauk Centre; St. Joseph's Hospital, Dodgeville, Wis.; and Trinity Memorial Hospital, Cudahy, Wis. She served as Community Secretary from 1976–1984. She also ministered as secretary, receptionist and clerical assistant in St. Cloud, Elk River and St. Paul, Minn. In 2001 she and her close friend, Sister Mary Ellen Dinndorf, moved to Mercy Manor Apartments in Albany, Minn. As Sister Mary Ellen's health declined, Sister Eileen served as her caretaker. She was always grateful for having had the opportunity to do this and often spoke of Sister Mary Ellen.
Sister Eileen had wonderful gifts of organization and attention to details and she put those to good use in her ministries. She was friendly and hospitable as she interacted with people and was truly a "sister" to them. She was grateful for the many opportunities she was given for spiritual and personal growth by her Franciscan Community. When she celebrated her golden jubilee she said, "I have not walked this journey alone. God has directed my life and sustained me with many graces and blessings. With a grateful heart and many happy memories I continue onward."
Sister Eileen's family was very important to her and she to them. It was not unusual for a couple of brothers and their wives to show up on a Sunday afternoon to play cards with Sister Eileen. Sometimes they simply picked her up and brought her to St. Cloud for those family card games.
Sister Eileen was preceded in death by her sisters-in-law, Ann Marie (Frank) and Mary Alice (Frank). Survivors include siblings: Winifred (Vernon) Nieland, Marshalltown, Iowa; Frank, Omaha, Nebr.; Marcel (Patricia), St. Joseph; Robert (Elizabeth), Lancaster, Calif.; Eugene (Linda), Bismarck, N. Dak.; Patrick (Ruth), St. Cloud; Thomas (Sharon), Mounds View; David (Shannon Shaughnessy), St. Cloud; and Karen (Thomas) Lundgren, Minneapolis; nieces, nephews and her Franciscan Community.
A wake will be held for Sister Eileen on November 2, 2018. A Mass of Christian burial will be celebrated on November 3, 2018, at St. Francis Convent.
Donations to Franciscan Sisters ministries preferred.