Join us as a Sister
---
Are you searching...for a deeper meaning in your life?

Do you have
a prayerful spirit that seeks God?
a sincere desire to live a life of service to others?
the maturity and natural gifts required to live and work in community?
a desire to spread justice and peace?
an attraction toward simplicity of life?

Are you a person who
has a deep reverence for God's creation?
has a special love for persons who are poor?
seeks peace, justice and non-violence?
Then becoming a Franciscan Sister could be the path for you.
How to Begin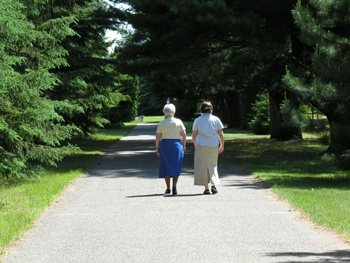 Do you think you may be called to vowed religious life, but are not sure? Here are some steps that will help you begin to give serious consideration to this possibility:

Pray — Spend time in prayer each day, specifically seeking clarity for your life's calling. Ask for the guidance and clarity of the Holy Spirit. (The process of discovering God's direction and guidance in the reality of your life with the help of the Holy Spirit is called "discernment." The Holy Spirit will work through your thoughts, feelings and desires.)

Reflect — Reflect on your life experiences. Take a look at how God has been guiding you all along in your life. Consult persons who are important to you. How do they see you? Seek a spiritual director, who can help you discover how God may be leading you. Look at your talents, gifts, limitations and explore how you feel you can be your best, whole and free self.

Gather Information — Make contacts with religious communities. Read and digest the information you receive from them. Do you find yourself resonating with some? Name your honest feelings. Narrow your choices.

Visit — Visit the communities to which you are drawn. Spending time with the sisters in their prayer, community life and ministry will help you discover if their way of life might be right for you. Find out all you can about the sisters, their spirituality and community life. The community will also discern if you have the suitability for life in their community.

Be at Peace — A decision about becoming a sister may take some time. Let the process unfold in a peaceful way. Be patient. Continue to be in contact with the community that seems right for you. You may experience anxiety and doubts, but notice if, at the same time, you feel peace and joy. Does this direction or choice give you life? Then proceed with your decision.

Through discernment, you will discover that God wants only whatever is good for you—whatever brings wholeness and leads to holiness.
This is a moving and powerful video of three men making temporary vows as Augustinian Friars. A Franciscan Sister of Little Falls, Sister Ardis Cloutier, the woman in the pink blazer approaching the altar to read from Scripture, works with Fr. Tom McCarthy in their Vocation Office in Chicago. At the end of the video Fr. Tom, for whom Sister Ardis works, poses a question. That same question could just as easily be posed to women who may wish to learn more about Franciscan way of life. For more information on discernment or to learn about our Franciscan Community, call Sister Michelle L'Allier at 320-232-8944 / mlallier@fslf.org or Sister Carmen Barsody at 415-816-8631 / cbarsody@fslf.org. Have you ever thought what God is calling you to do? How are you listening to what God wants you to do? Are the prayers of Saint Francis for you?

Click here to watch the video on Midwest Augustinian Friars website.